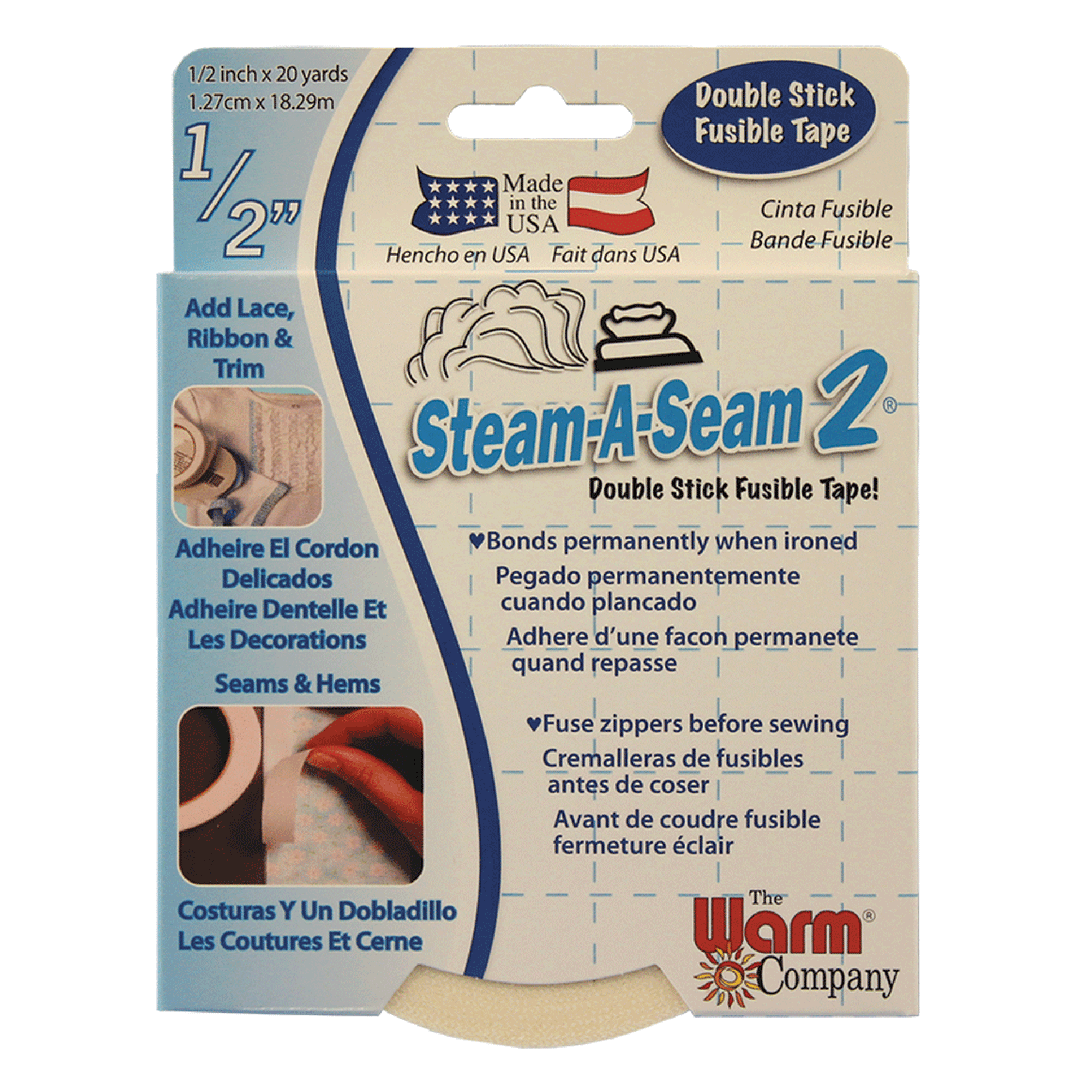 Steam-a-Seam 2 :: 1/2" x 20yds
---
Only 3 items in stock!

Inventory on the way
Steam-a-Seam 2 ::  1/2" x 20yds
Get Stuck on Lite Steam-A-Seam 2 and Steam-A-Seam 2 Fabric Fusing Tapes –
Perfect for Hems, Seams, and Adding Lace, Ribbon and Trim! 

Steam-A-Seam 2 and Lite Steam-A-Seam 2 are the most loved fusible webs on the market for many good reasons. The pressure-sensitive adhesive gives the web an unmatched tacky, repositionable value. This allows for perfect placement every time. When hemming up pants for example – go ahead and tack the hem in place and try on the pants before making anything permanent. The light tack of the adhesive will hold allowing you to get your hem perfect and ready to iron for a permanent bond. No pins are necessary! Simply finger press in place – no mistakes – the last step is to fuse when everything is perfect! Lite Steam-A-Seam 2 tapes and Steam-A-Seam 2 tapes work with all types of fabric. Add ribbon and trim to stretchy knits, use with sequins and beads and watch it disappear into lace with its washable and dry-cleanable permanent bond! They're so easy to use with excellent results. See the tutorial below.

Use the 1/2″ and 1/4″ tapes for far more than hems and seams. The 1/2″ tape is ideal for getting zippers perfectly in place before sewing and that pocket is exactly where you want it before making it permanent. The 1/4″ tape is ideal for adding binding to quickly finish off quilts, placemats, wall hangings and so much more – no whip stitch needed! The 1/4″ tape makes sure your points are together when piecing your quilt top. Stick the points together and give them a quick fuse, then sew for perfect pinwheels every time!

Lite Steam-A-Seam 2 is half the weight of Steam-A-Seam 2 and you will use them both in the same way. It is best to use Lite Steam-A-Seam 2 with more delicate fabrics like sheer lamé, laces, and with clothing or even quilts. Lite Steam-A-Seam 2 is best for projects that will be close to the body for a flexible permanent bond. Heavy fabrics like denim and Ultra Suede work well with Steam-A-Seam 2 as do projects that will see a lot of wear like placemats, pot holders, towels.

Lite Steam-A-Seam 2 and Steam-A-Seam 2 tapes won't gum your needle if you decide to sew. If you ever feel any resistance when sewing, stop sewing. It hasn't been fused long enough. Remember how we talked about the pressure-sensitive adhesive that gives Steam-A-Seam 2 and Lite Steam-a-Seam 2 its temporary tackiness? Steam dissipates this tacky adhesive as it is not needed to fuse the fabrics together. The web itself is what permanently bonds the fabrics together. If there is resistance or gumming on your needle, using plenty of steam, go back over the project making sure to completely and thoroughly steam all areas. Don't worry about overheating – Lite Steam-A-Seam 2 and Steam-A-Seam 2 can take the heat! When working with multiple layers fusing from the front and from the back of the project works well. Always allow the project to cool completely before sewing. If your needle got gummed up, a little rubbing alcohol will clean it right up.

Benefits of Using Steam-A-Seam®:

Repositionable stick
Bond is strong & permanent
Leave edges unfinished – will not fray or lift
Will not gum up your needle
Machine wash and dry (See Product Care)
So Easy to Use
Use Steam-A-Seam 2 with different materials & projects:

Appliqué
No-Sew hems & seams
Add or repair zippers, pockets, etc.
Apply lace, ribbon & embellishments
Durable enough to use with paper, cardboard, wood, glass, etc!
Product Care

Machine wash & dry finished projects without fabric softeners or dry clean.
You may leave edges unfinished, but if you choose to sew through, make sure that the Steam-A-Seam 2® is fully fused with a steam iron – 30+ sec and let set before sewing.
When laundering, avoid using fabric softener. Fabric softener chemicals erode the fusible web over time.
Use collapsible tabs for more detailed information that will help customers make a purchasing decision.
Ex: Shipping and return policies, size guides, and other common questions.